I told you all there would be something new, didn't I? Well here it is! My attempt at plastic bag fusion. I saw this tutorial on Etsylabs and thought i'd try my hand at it. Materials: plastic grocery bags, iron & ironing board, parchment paper, scissors.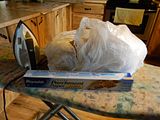 1. Cut the top handles and bottom off the bag so that it's a tube. I used 4 bags total so there were 8 layers.


2. Sandwich the stack of bags between two layers of parchment paper.


3. Iron evenly & make sure it stays moving. You'll have to play with the heat settings, I started off low and ended up on the first cotton setting.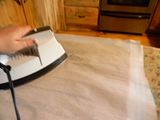 4. You'll start to see the plastic shrinking through the parchment paper. The thickness of the finished plastic will vary depending on how long you iron. I shrunk mine about 30%, resulting in a thicker plastic canvas feel.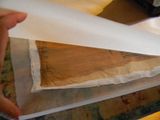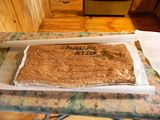 5. Once I had that sheet of plastic, I thought on what to do with it. I ended up folding it in half, putting a piece of parchment paper in the middle of it, and ironed the edges to make a bag.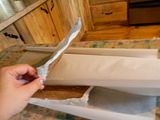 6. I trimmed the edges so it didn't look so raw.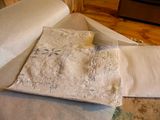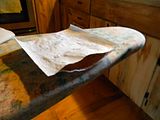 I know i made a bag of some sorts, but what to use it for now? Perhaps a reusable sandwich bag? Oh, the possibilities!